Our stories make a difference.

Stan talks Amazon HQ2.
Could Atlanta's conservative culture really have a significant impact on Amazon's HQ2 decision? Check-out Stan' uncommon insight in the full BisNow article.
PREF Talks Film Tax Credits
Film tax credits have bolstered Georgia into becoming the third most popular destination in the country for film production, earning the nickname "Hollywood of the South." In an interview with Atlanta Journal-Constitution's Rodney Ho, Steve Rothschild shared his insight on film tax credits and their impact on Georgia.
Read the full article: What Made Georgia Hollywood of the South: The Tax Credits Explained
PREF Invests in Two Multi-family Properties in Marietta, GA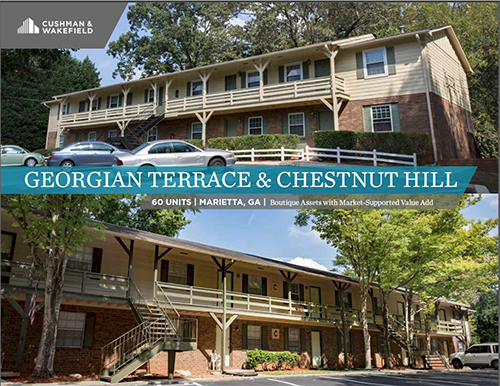 PREF announces its investment in two, small multi-family properties in Marietta, Cobb County, Georgia. Georgian Terrace (20 units) on Austell Road and Chestnut Hill (40 units) on Chestnut Hill Road SW serve lower-middle income residents who work in Cobb County but cannot afford the higher rents of new or renovated properties. PREF raised $1,000,000 to invest in a limited liability company sponsored by 5 th Street Capital Partners. Plans call for unit upgrades to drive a rent increase with a potential sale in 3-5 years. Targeted average annual return on equity is 9% with an overall return including future sales proceeds of 13-15%.
PREF Acquires Office/Warehouse Property in Kennesaw
PREF announces the acquisition of a 21,500 square foot building located at 1975 Vaughn Road in Kennesaw. The property consists of 80% office space and 20% warehouse space and is leased through April 2018 to Automated Logic Services, Inc. a division of United Technologies, Inc.
The previous owner built the office and warehouse space for his Company and then sold it to United Technologies. United Technologies then leased the property back from the original owner. The tenant is currently in the 1st 5 year option period. Market occupancy is high and location is strong due to the close proximity to Kennesaw State University, Cobb International Airport-McCollum Field, and Town Center Mall. The area provides great demographics within 5 miles of property. The property was purchased for $1.5 million, which is below the replacement cost. Cash flow from rent will allow for an 8.0% annual return and provides significant reserve for future lease up should tenant vacate at end of lease term.
PREF Acquires 104 Interstate North Parkway E., Marietta, Georgia
PREF announces the acquisition of a 9,800 square foot office property on 1.4 acres in the Cumberland CID. This property was purchased on behalf of a private investment group in December, 2015 for $1.25 million in cash. At the time of purchase the property was leased to Foot Solutions, Inc. The property was purchased because of its excellent location in the Cumberland CID near the intersection of I-75 and I-285 within which considerable public and private investments, including the new Suntrust Field, are currently occurring. The property is expected to provide the investors with a stable 7% annual return on equity plus long term appreciation.
PREF Acquires Doraville Warehouse
PREF announces the acquisition by PS WAREHOUSE PARTNERS LLC of a 26,000 square foot warehouse in Doraville, Georgia. The building is 100 percent leased to Triton Stone Group, one of the largest granite importers in the United States.
The property is located near Assembly, the mixed-use project currently underway on the site of the former General Motors Doraville plant adjacent to Interstate 285. A number of close-in, well-located warehouses have been demolished or are scheduled for demolition in order to make room for such higher-density developments. Thus, PREF anticipates that this property will increase in value as the supply of similar buildings diminishes. In addition to this future appreciation, investors expect a steady 8 percent annual cash return on the unleveraged acquisition.
New Restaurant Coming to Cheshire Bridge
As reported by the Atlanta Business Chronicle and the AJC, Justin Anthony, an experienced Atlanta restaurateur who owns South African-inspired Yebo and 10 Degrees South, is opening a new restaurant this fall at 1782 Cheshire Bridge Road, which is owned by PREF CB Partners, LLC. The restaurant will be called Cape Dutch and will feature steak, seafood and wine from around the world.
Cape Dutch replaces Woodfire Grill, the former tenant in the space that closed earlier this year. No exterior changes are planned, though there will be extensive interior renovations. The new tenant is on an eight-year lease with a five-year renewal option.
Sale of Property Returns Nearly Three Times Original Investment
Viking Partners LLC and PREF VOT, LLC sold The Village of Old Trace, a community shopping center located in West Cobb County near Marietta, Georgia. Purchased in 2011, the property returned 2.8 times the partners' original investment over the three year and nine month holding period. PREF VOT is a limited liability company organized by Preferred Real Estate Funds, LLC on behalf of several high net worth clients. The company plans to defer the gains and reinvest the proceeds taking advantage of a 1031 Tax Free Exchange.
Site Acquired on Cheshire Bridge Road
PREF CB Partners, LLC, a company organized by PREF, purchased 1782 Cheshire Bridge, a .25-acre site with a 5,000-square foot building for $1.075 million. The space is leased to Woodfire Grill, one of Atlanta's most notable and long-standing, fine-dining establishments. Woodfire Grill's popularity and longevity coupled with the nearby established as well as new high-income neighborhoods, combine to create an attractive long-term investment. Recognized for its steady income and potential future value, this asset aligns with PREF's criteria of buying small, yet stable properties close to significant developments in the path of progress.